Discover the world's most tempting coffee. • Get 2 premium varieties of coffee or tea • FREE Stainless Steel Coffee Maker & Scoop • $120 approximate retail value! • FREE Shipping! Click Here
FREE baby stuff! Click Here
Get free grocery coupons, online discounts, and more Click Here
Free Pamper's Potty Training kit Click Here
Free Sea Kittens Action Pack for Kids Click Here
"Like" Red Baron on Facebook and get a $2 off coupon Click Here
Purex® Complete 3-in-1™ Laundry Sheets come in three scents and are available in two package types – a Starter Kit (1 Dispenser + 20 Laundry Sheets) and a value Refill Pouch (24 Laundry Sheets).
The Starter Kit includes a refillable Dispenser that makes it simple to protect and access Purex Complete 3-in-1™ Laundry Sheets. Once you have the Dispenser, simply purchase the money-saving Refill Pouch to fill the convenient Dispenser.
Last week I received in the mail 2 sheets of Purex® Complete 3-in-1™ Laundry Sheets. They are a single laundry sheet that you put in with your wash that contains laundry detergent, fabric softener and dryer sheet in one. Since we use the laundry center in our complex I thought they might make doing laundry easier, not having to carry 2 bottles and a box with me along with clothes, keys and quarters.
I was a bit skeptical, my husband and 4 yr. old both have sensitive skin and I wasn't sure if it would make them break out. I also wasn't sure how well the fabric softener would work being all on one sheet. However, I was quite surprised. Not only did our laundry come out clean and soft but it didn't break out my husband or son.
I am sold on the product and will be buying it on the next trip to the store. I had been wanting to try them but I wasn't sure if they were worth the price. After trying them I have conclude that for my family they are. If you wash your clothes yourself at home then convenience may not be as big of a factor for you. Another thing I like is that my kids love putting them in the wash, it makes them feel like they are helping.
You can try 2 free sheets of Purex Complete 3-in-1 laundry sheets as well as get a coupon here.:
http://www.trypurex.com/Purex_3-in-1_Free_Sample/
Free ADT Child Safety Kit for every kid under 14 in your home
Free Subscription to Website Magazine Click Here
Sign up for the FaveDiets Quick and Healthy Recipes newsletter and receive "The Ultimate List of Healthy Snacks: 40 Healthy Snack Recipes" eCookbook free. Click Here
FREE Product Samples from Vistaprint! Get custom printed products for home or office. Choose your free product today! Select from business cards, postcards, invitations, mugs, tote bags and other great products! Click Here
The Blog One Savvy Mom is hosting a giveaway for $500 Visa® Giftcard. Giveaway ends July 14. Head on over to One Savvy Mom to enter. Multiple extra entries available.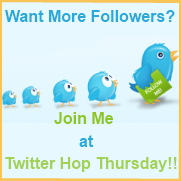 Need more followers? Want to find more great tweeps to follow? Join the Twitter Hop Thursday! Hosted by Simply Stacie, The King's Court IV, Little Yaya's and Blessed, Review Retreat and Moms Wear Your Tees!
Head on over to Moms Wear Your Tees to join the twitter hop. Be sure to follow me on twitter: @hotmomtips and leave a comment so I can follow you back!